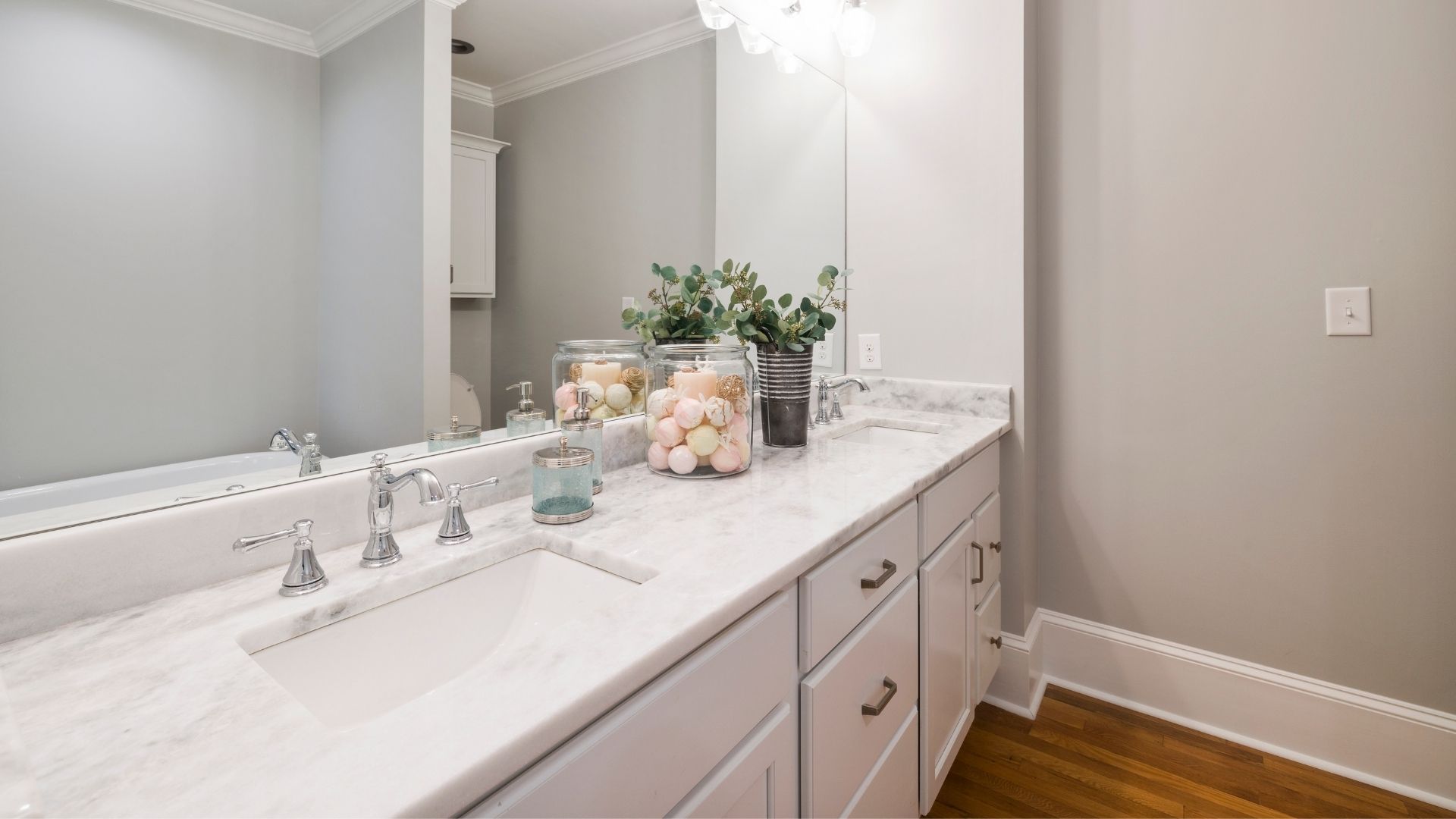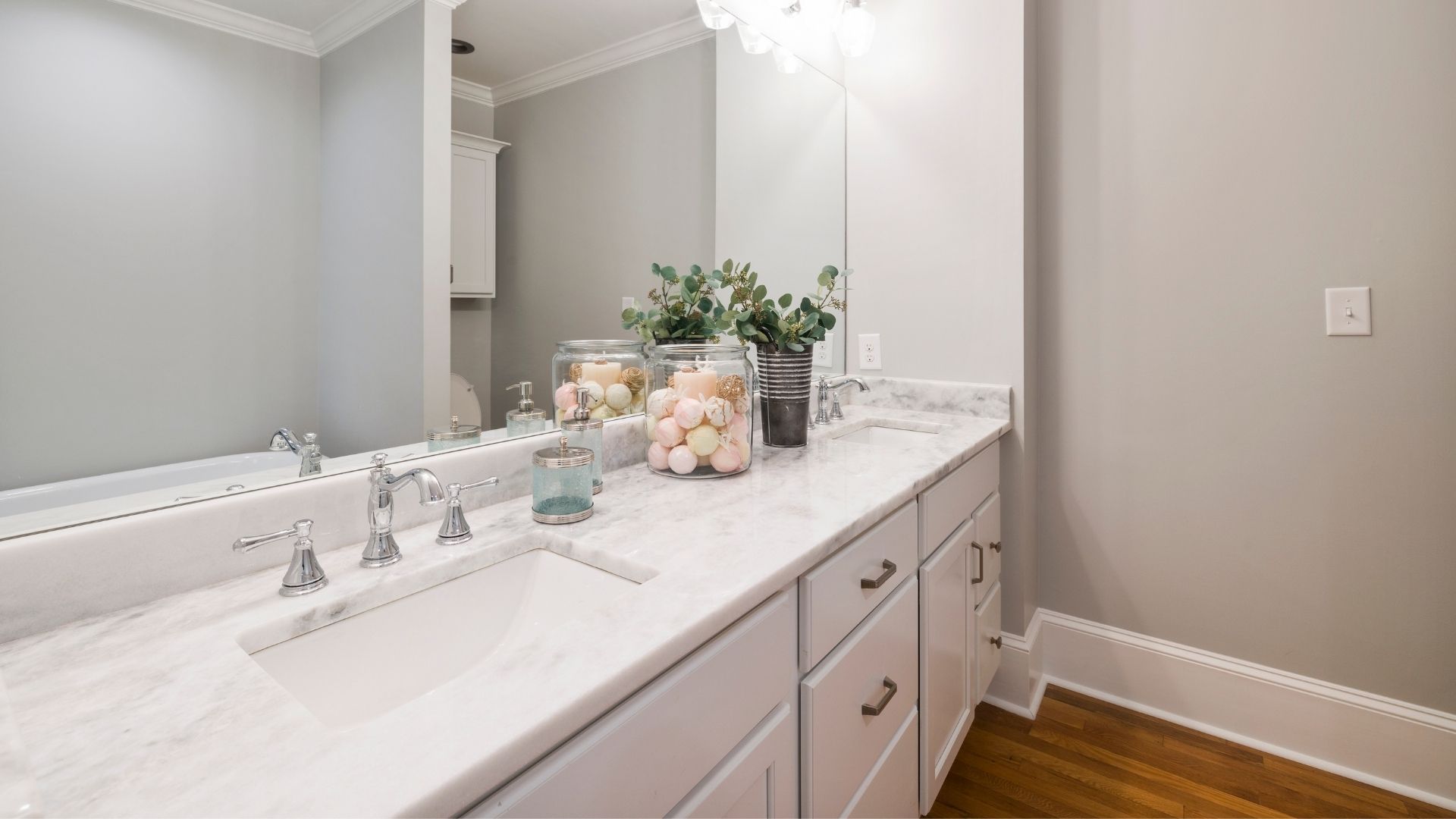 Bathroom Countertops Sarasota FL
Countertops play a pivotal role in determining the look and feel of your newly-remodeled bathroom. Even if you do everything else right, choosing the wrong material or color for your bathroom vanity countertops/bathroom sink countertop could distract from the rest of your bathroom. Because of that, it's essential to pick the right partner to install these elements for your bathroom.
In Sarasota, FL, the best company for countertop replacement and installation services is Sarasota Bathroom Remodels. Our team knows how to install the right kind of countertops for your bathroom's layout and design. Choose us to take your Florida bathroom countertops to the next level!
Choose the Right Countertop Material
While there are a few different countertop options out there, natural stone countertops may be the most luxurious choice for your vanity top with sink. Even after narrowing your choices down to focus on stone, you'll still need to decide on a material. Here are three options that are an excellent fit for almost every bathroom:
Granite Bathroom Countertops
Granite is one of the most popular types of stone in the world of countertops. When it's time to install granite vanity tops, we can put in prefabricated tops or "slab" tops – the latter is ideal if you want custom vanity tops. Either way, your new countertops will be durable and beautiful.
Quartz Bathroom Countertops
Just like granite counters, quartz vanity tops are made from real stone. However, these countertops are processed and sealed for added protection against moisture and leaks. Unlike granite, quartz counters can also be customized with various patterns.
Marble Bathroom Countertops
Granite and quartz are both fantastic choices, but if you want a truly timeless appearance for your countertops, nothing beats marble. Of course, that statement comes with a cost – literally and figuratively. Marble vanity tops are more expensive and less durable than the alternatives.
After successful submission, you will be forwarded to our Google My Business Page.
Having Second Thoughts? Consider These Materials
Natural stone is a popular choice for Sarasota countertops, but it might not be what you need. If that's the case, you might prefer:
Laminate countertops. It's hard to find a more durable countertop material than this. Better yet, these countertops need minimal maintenance.
Ceramic countertops. Are you concerned about the cost of your countertops but still want tops that will last for years? If so, ceramic countertops might be the ideal choice.
Stainless steel countertops. It's not the most common type of countertop out there, but a stainless steel counter can give your bathroom a bold, contemporary look.
Porcelain countertops. If durability is your number-one concern, porcelain is an even better choice than stone. This material is about 30 percent stronger than even the best granite.
Having Second Thoughts? Consider These Materials
Sarasota Bathroom Remodels can select and install the most suitable material for your bathroom vanities with tops – and any other space in your bathroom that needs countertops. If you live in Sarasota or any of the Florida cities listed below, just give us a call to get things going:
Siesta Key
Longboat Key
Bird Key
Golden Gate
Lido Key
Casey Key
Indian Beach / Sapphire Shores
Lakewood Ranch
Laurel Park
Gillespie Park
University Park
Palm Aire
Rosemary District
Desoto Acres
Gulf Gate
Get in Touch
Give us a call today on 941-260-1153